In the News
New York State's "Combat Heroin" Awareness Campaign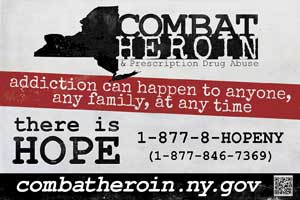 Graphic supplied by NYS OASAS
New York State has seen a 40% increase in admissions for heroin and prescription opioid abuse treatment from 2004-2013. In response, New York State Governor Andrew M. Cuomo launched "Combat Heroin," an awareness campaign designed to educate New Yorkers about the risk of heroin and prescription opioid use, the signs of addiction and the resources available to help.
"The Combat Heroin campaign will get the word out about the dangers of this illegal drug use, as well as the treatment and support services that are available to those who need help," said Governor Cuomo. "Just like the new law that expanded access to treatment and anti-overdose medication, this campaign is comprehensive and designed to save lives. I urge anyone who knows someone in need of help to reach out today."
Samaritan Village has seen demand for its substance abuse treatment services increase by 50% over the past 10 years. A review of the agency's admissions data shows that, increasingly, people are naming heroin and other opiates as their primary drug of abuse - up from 37% in 2003 to 46% in 2013.
"Heroin and opioid addiction has impacted families in every corner of our state and stolen the lives of too many New Yorkers - but we're taking another step forward in the fight against this serious epidemic," Governor Cuomo said.
"The problem of opiates never seems to go away," explained Samaritan Village's Assistant Vice President of Residential Services Jim Hollywood. "While the prevalence and formulations may change over time and by community, opiates always seem to find a niche to fit. The concern that is rising among us today about heroin has grown from the widespread availability of prescription pain killers."
In June 2014, Governor Cuomo signed into law a legislative package to combat the heroin and opiate drug epidemic. The package included insurance reforms, new models of care to divert people into community-based treatment and to support people after they have completed treatment, allowing parents to seek assessment of their children through the PINS diversion services, and expansion of opioid overdose training and increased availability to naloxone, a medication which reverses an opioid overdose.
Where to Find Help
The Combat Heroin website, found at http://combatheroin.ny.gov/, includes information about the warning signs of heroin and opioid abuse and misuse, access to Office of Alcoholism and Substance Abuse Services treatment providers, and guidance to help parents talk to their children and healthcare professionals talk with their patients.
If you think you or a loved one may be addicted to heroin or other substances, visit Samaritan Village's website to take the Drug Addiction and Alcohol Abuse Self Assessment. Or, visit our Need Help section to review a list of recovery organizations, mutual aid meetings/groups, New York-based treatment providers, or organizations focused on helping a loved one.
To learn more about our residential or outpatient treatment services for men, women, veterans, families and adolescents, call 1-800-532-HELP (4357) OR (718) 657-6195.