Recovery Services

Recovery from addiction is a journey that lasts a lifetime. Samaritan Daytop Village's Recovery Services Division is an all-embracing support network that is focused on New Yorkers in recovery who strive to live a life free of drugs and alcohol dependence. We also work with family, friends and community members who are often a dependable source of strength and encouragement to a person in recovery.
Central to Recovery Services is our Peer Assisted Recovery Center, or PARC, which provides individuals in recovery with a haven where they can learn, grow and find resources on their journey.
PARC is a recovery outreach center where individuals in all stages of recovery can socialize and receive a myriad of support services. PARC fosters a welcoming, supportive space to enjoy activities and receive guidance for a lifetime of wellness.
Samaritan Daytop Village has two locations in Queens and the Bronx. Office hours are Monday-Friday from 10 a.m. - 6 p.m. PARC offers workshops and group sessions, Recovery Coach training, social and recreational activities, vocational assistance and peer-to-peer individual and family support. Home to a free computer lab, PARC also offers information and education about addiction treatment and assists with insurance and treatment concerns through referrals.
Since 2020, certified trainers at PARC has been offering free Narcan training workshops to the public - for free. Classes are virtual and run every other Friday throughout the year. Upon completion, students receive a free Narcan kit. In-person group sessions can be requested. Classes are offered in English and Spanish. To sign up, call 929-244-1500 or email parcbronx@samaritanvillage.org or download the annual training schedule to view upcoming class dates.
PARC Queens is located at 92-13 147th Place, Lower Level, in Jamaica, Queens, and is free to the public. Meetings for the Recovery Club, a support network for those in recovery, take place weekly. For additional information, send an email to PARC@samaritanvillage.org or call (929) 244-1445.
PARC Bronx is located at The Richard Pruss Wellness Center, 510 Courtlandt Avenue, 2nd Floor, in the Bronx. Email PARCBronx@samaritanvillage.org or call (929) 244-1500 for more information.
PARC is funded by the New York State Office of Alcoholism and Substance Abuse Services. PARC Bronx is the recipient of SAMHSA Grant #H79T1081708.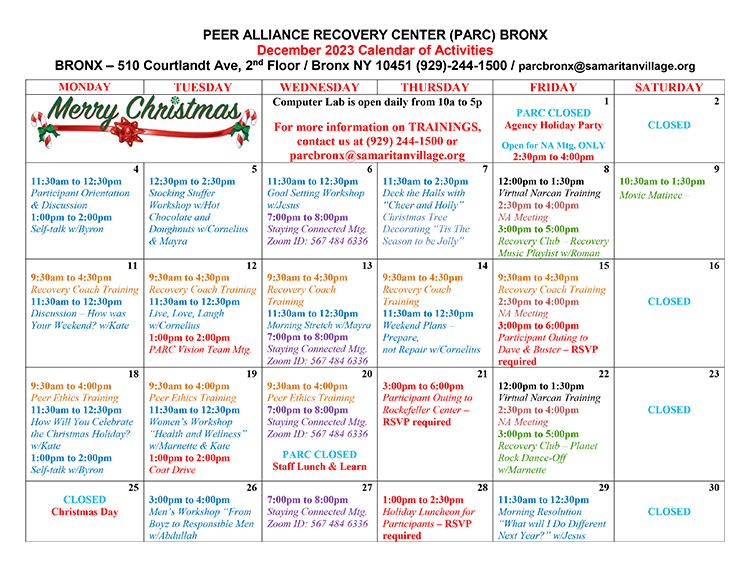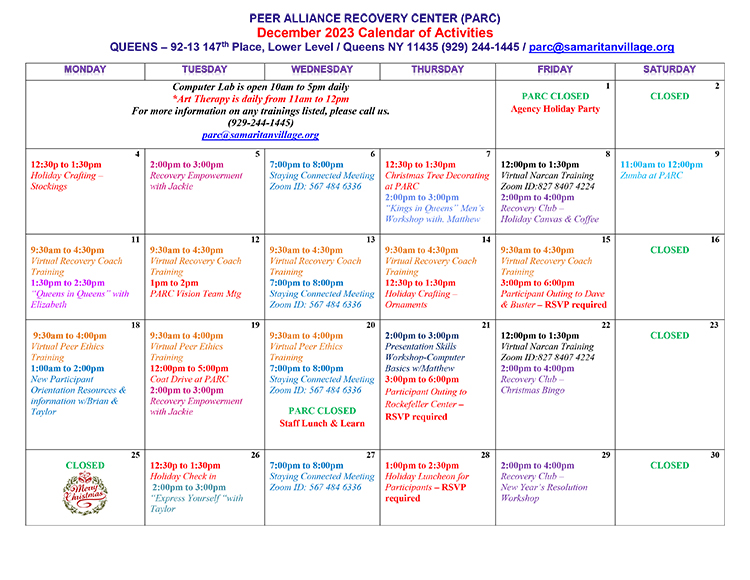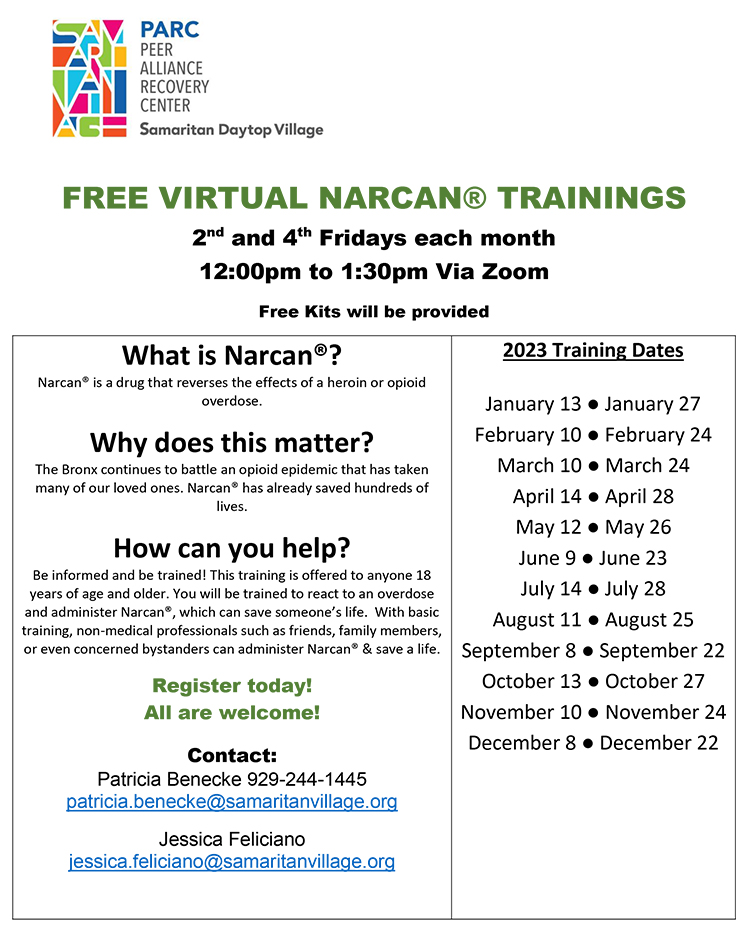 A new and powerful trend within the health and human services field is the evolution of the peer workforce – individuals with shared "lived experience" who support individuals in recovery in both treatment and community settings. Samaritan Daytop Village is committed to developing a high-quality peer workforce through a number of initiatives.
Recovery Coach Training. Training to become a Recovery Coach is available at PARC. Recovery Coaches assist individuals throughout the recovery process by offering emotional support, removing barriers to recovery, and connecting them to support services that exist in the community. Recovery coaching is a non-clinical, peer-based supportive service, and is an essential and stabilizing force for individuals seeking to support their, and others', recovery. Samaritan Daytop Village has trained hundreds of Recovery Coaches and currently trains new coaches at PARC.


Recovery Services Internship. Through our internship program, individuals completing recovery coach training immerse themselves in an intensive 500-hour, hands-on work program with Samaritan Daytop Village staff at PARC and our Residential Treatment Admissions Unit. The internship prepares candidates to become a New York State Certified Addiction Recovery Coach and the opportunity for entry-level hire at Samaritan Daytop Village or other treatment providers.
Clients, alumni and their families can benefit from a community-based support network during and after treatment. Two independent, peer-led associations are wholly committed to members' successful recovery. A Director from our Recovery Services team acts as a liaison to both groups, preserving members' connection with Samaritan Daytop Village and its services.
Alumni Services. Individuals who have successfully completed treatment with us can join Samaritan Daytop Alumni Association, an active member-based organization with multiple meeting locations in New York City and Long Island. The group reinforces and supports recovery through special events, meetings and mentoring opportunities. Members can also be enlisted to provide guidance and inspiration to clients currently undergoing treatment at Samaritan Daytop Village. For more information, contact Alumni Services.


Family Services. Addiction can have a devastating effect on families and loved ones. Through the Samaritan Daytop Family Association, peer-led groups assist families and loved ones, and connect them to resources, guidance and a supportive network. Family Services groups are run by peers and the facilitators are trained by our Recovery Services team. Family Support Groups are currently active in Manhattan, Suffolk, Rockland, Queens and Staten Island. For more information, contact Family Services.